First published: 14th September 2012
Regular email users will be familiar with a variety of fraudulent messages arriving in their inboxes. The fact that these messages keep arriving suggests that some people fall for these scams. A common tactic is to tell the recipient they have won something. Let's take a look at some of these, and how to distinguish them from a genuine prize notification.
This table shows basic details of several messages:
Subject
Claimed Sender
Other details
$580,000.00 Winner
U.K Apple-iPhone
From: "APPLE-IPHONE PROMOTION ONLINE " <lr1@yale.edu>
Reply-To: appleiphonep5@aol.co.uk
Your e-mail has won you £800,000
BBC LOTTERY BOARD
From: "BBC" <lr1@yale.edu>
Reply-To: bbc.care@aol.co.uk
CLAIM!!
BBC LIVE UK
Your entitlement £1,000,000.00 BBC ONLINE PROMO
UK YAHOO AWARD/WINNER/OPEN ATTACHMENT FOR PRIZE CLAIM
Yahoo Awards United Kingdom
Important Notification [You have Won]
Lucky Gold Strike Program
MC Donald's Restaurants Ltd:
MC Donald's Restaurants Ltd:
Enjoy $650,000.00 from McDonald's in Spain
GOOGLE FAIR FUND
Google Awards Committee
Dear Google Active User,
You have been selected as an eligible recipient of Google Grand Prize and attached to this email is the official letter of notification.
Reference Number: BMW:2551256003/23
BMW
A BMW SALOON CAR AND £45,000.00 pounds has been won by you on our BMW PROMOTION
NOTIFICATION!!!
2012 Petronas Free Lotto Corporation ©
We wish to bring to your notice that your email has been selected in Petronas on-going sweepstakes.
EuroMillions Friday night's draw
EuroMillions
63.8Million Pounds Winner Yet To Come Forward,
PLEASE VIEW YOUR WINNING NOTIFICATION
London Olympics Lottery
Congratulations Read The Below Attached File
Microsoft Online Promotions
CONGRATULATION'S FROM COCACOLA UK
Coca Cola UK
Now let's take a look at a genuine lucky draw notice: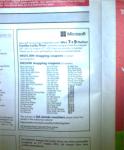 . The first thing to notice is that it is a print advert in a newspaper. Secondly, the top prize is a single HK$5,000 (about UD$645) shopping coupon, and 72 other winners got HK$200 (about US$26) shopping coupons. This is a long way from winning a car or millions.
The Sting
How do the criminals profit from sending these fake messages? They are hoping that gullible victims will reply, claiming their prize. Usually, they will be told that there is a "minor administrative fee", which is very small compared to the winnings, that they have to pay first, in order for their winnings to be released. Of course, the winning are never released. This is why these scams are called Advanced Fee Fraud, the victim pays in advance, on the promise of receiving a lot more in future.
Alternatively, the criminals may ask for bank details in order to pay the money to the victim's account. If they get enough details, they can access the account and withdraw all the victim's funds.
Advice
Don't Believe Everything You Read Email, in particular, is easy to forge. Just because it says "Microsoft" in the From: field, it might not be from Microsoft.
You Will Never Win a Lottery that you Did Not Enter Did you buy a ticket? Did you sign up for a promotion? Organisations run lotteries to promote their name or brand, so they want you to remember entering the competition. If you do remember entering a lottery, is it exactly the same name? Are the prizes the same? Does the notification method match what you were told? Check the details on your ticket.
The Bigger the Prize, the More Unlikely is Your Win There is only one Grand Prize, a few smaller prizes and thousands of loosers. Be suspicious.
Email is cheap, a fraudster can send millions of fake messages for almost nothing, hoping to catch one foolish person. Don't be that person.
You may use this article for educational purposes, so long as the source is quoted.